BOOKINGS
View our Availability Calendar, Pricing, Location, Directions and Contact Details below.
PRICING
PRICE PER NIGHT: $245-$345
Prices are for two people (shared bed) and are per night. Sleeps a maximum of two people. WIFI and amenities are included free.
HOW TO BOOK
1. You can view available dates via the calendar above.
2.  Contact us via email, contact form or phone to make a booking.
3.  We will send you a booking confirmation by email with payment details.
4.  We accept payments via Credit Card, Bank Transfer & cash on arrival.
CONTACT DETAILS
PHONE
Call or Text: (+64) 021 08136757
EMAIL
info@sunriseapartment.co.nz
OFFICE HOURS
8am – 9pm, 7 days
ADDRESS
1234a Takaka-Collingwood Highway
[Opposite "The Mussel Inn"]
Onekaka 7182, Takaka
LOCATION
Sunrise Apartment is located in Onekaka, Golden Bay – the hidden paradise of the Nelson/Tasman region, on the north-west point of the South Island of New Zealand. Our large private property looks over the vast ocean of Golden Bay, directly in front of a private beach. Onekaka is half way along the scenic coast between Takaka and Collingwood, and lays on the footsteps of and two of New Zealand's beautiful National Parks: Abel Tasman National Park and Kahurangi National Park.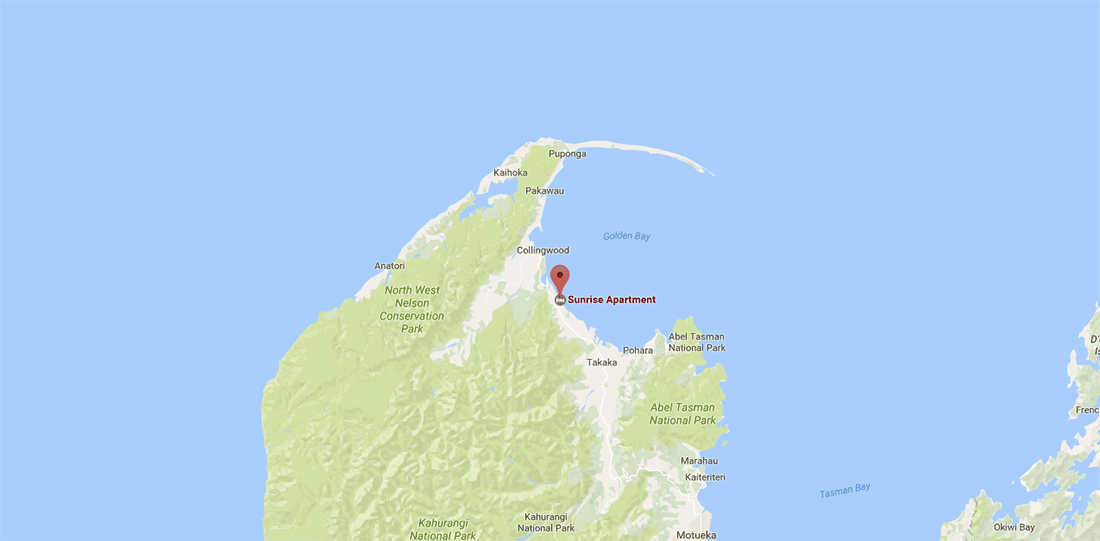 HOW TO GET HERE
GETTING AROUND GOLDEN BAY
We highly recommend that you get a rental car for your stay in Golden Bay. Public transport is very limited and Sunrise Apartment is 16km from the main town and shopping centre, Takaka. There is only one road in and out of Golden Bay, over the Takaka Hill. If you want to experience all of the amazing walks & sights in Golden Bay, a car is a necessity. You can get a rental car at the Nelson Airport or the Golden Bay air strip. For more details please read below.
FROM NELSON
Sunrise Apartment is 1hour & 45minutes drive from Nelson City. Just head towards Motueka and to Takaka on your maps or by following road signs.
Nelson Airport links from Christchurch, Wellington, Auckland & Queenstown Airports. The two preferred airlines into Nelson are Jetstar and Air New Zealand. There are several car rental companies available at the Nelson Airport. You can find a rental car here.
FROM WELLINGTON
By Air: You can fly directly into Golden Bay via Golden Bay Air which offer scheduled flights year-round from Wellington.  They also offer rental cars available for $49 per day from the Golden Bay air strip.. Alternatively you can fly into Nelson Airport.
By Ferry & Road: There are car & passenger ferries that cross the Cook Straight between Wellington and Picton – The Interislander and the Bluebridge, both with a 3 hour sailing time. They offer beautiful views of the Marlborough Sounds for the latter part of the journey. On arriving in Picton, you can drive to Nelson, and then onto Golden Bay, taking just under 4 hours. Car rental is available at the Picton ferry terminal here.
FROM CHRISTCHURCH
By Air: You can fly to the Nelson Airport.
By Road: The most fastest and most direct route is north to Amberly and through the Lewis Pass to Murchison.  Head towards Nelson and watch for the turnoff to Motueka where you can join Highway 60 to Golden Bay.  You should allow 7 hours driving time. An alternative route is to travel up the east coast to Kaikora and on to Blenheim.  From here you head west to Nelson, Motueka and to Golden Bay. You should allow 9 hours driving time for this route.
DIRECTIONS FROM TAKAKA
When you arrive in Takaka, drive 16km towards Collingwood to the small community of Onekaka. 200m before "The Mussel Inn" you will see a wooden "Shambhala" sign on the right hand side of the road. Go down this gravel drive for 1.5km and you will arrive at the sign for Sunrise Apartments. If you have any questions, please call or email us.